The N.D.J Memorial Scholarship
Please read the information below for additional details:

Application Process is Now CLOSED!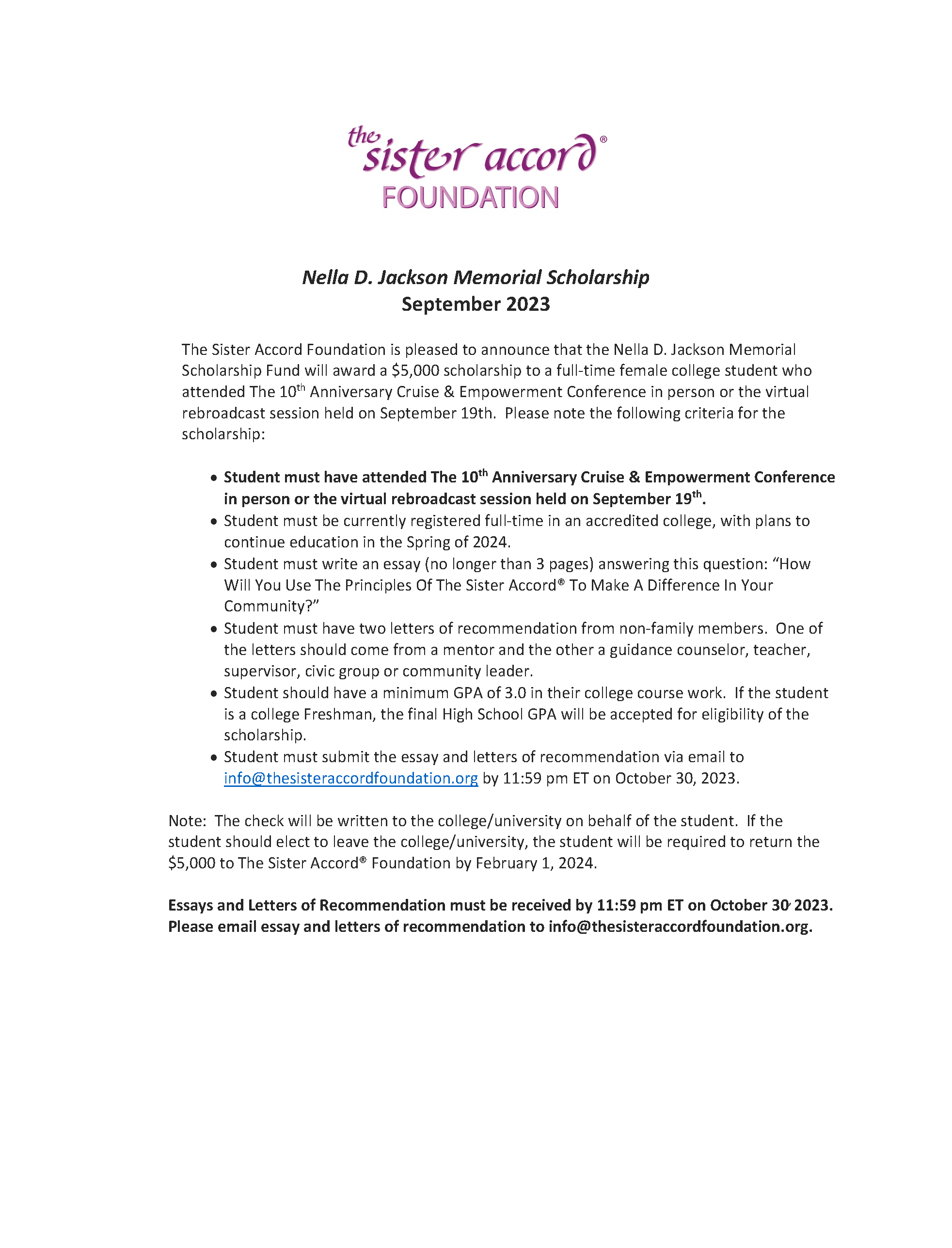 The Sister Accord®️ Foundation Is Awarding Two $5000 Nella D. Jackson Memorial Scholarships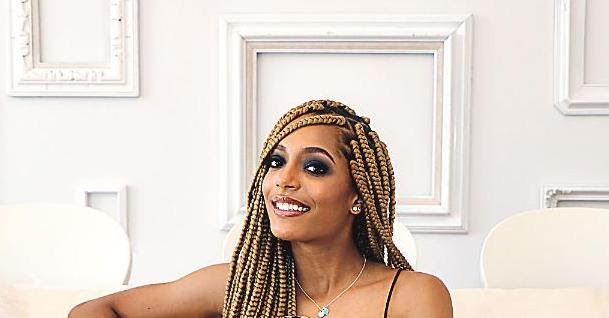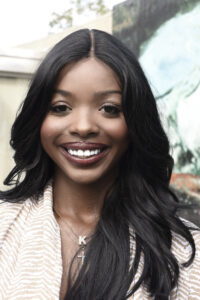 On behalf of The Board Of Directors of The Sister Accord®️ Foundation, we are pleased and excited to announce our two $5000 Nella D. Jackson Memorial Scholarship Recipients, Brooke Kinebrew and Kamryn-Irie Thomas.
Thank You to The 7 Principles Foundation for providing the funds for these scholarships. We appreciate your long-standing partnership!
Meet Brooke Kinebrew (1st Picture)
Brooke Kinebrew is a native of Cincinnati, Ohio and a current Junior at the University of Cincinnati, majoring in Journalism with a certificate in Digital Broadcast News. On campus, she is a Transfer Ambassador and a mentor to four African American female freshmen through a program called Transitions. When Brooke is not on campus, she spends most of her time at WLWT News 5 where she is currently an Associate Producer. During her free time, she loves spending time with God, whether reading a devotional, praying, or singing along to Maverick City Music. Spending time with family and friends, traveling to Disney World in Florida, shopping, and partaking in holiday festivities are among her favorite things. After graduating in 2024, Brooke's goal is to become a News Reporter. Her "big girl dream" is to someday work for the TODAY show.

"I started attending The Sister Accord®️ Events many years ago. The Foundation has taught me how to better love my sisters and how to encourage and teach other women to do the same. Mean girls turning into mean women if there is no intervention has stuck with me throughout the years and I am always fighting to combat that issue. Some of my favorite memories include learning dining etiquette, participating in self-reflecting activities, learning The Sister Accord®️ dance, and being blessed by Le'Andria Johnson's voice and hearing her story.
Receiving this scholarship is such a blessing. I am still in awe. All I can do is thank God and Mrs. Sonia Jackson Myles for providing me with this opportunity. I am eternally grateful. I took a leap of faith and transferred to the University of Cincinnati from Xavier University this past year with no money. Thankfully, my parents are able to pay for some of my tuition but not all, leaving me in debt. Education is very important to me. I pride myself on getting the best grades and pushing myself beyond my limits. This scholarship will take a financial burden off of me and my parents and allow me to continue to grow one step closer to my goals of graduating and becoming a News Reporter."

Meet Kamryn-Irie Thomas (2nd Picture)

New Orleans native Kamryn-Irie Thomas '24 attends Agnes Scott College in Decatur, Ga. As a Spanish and Creative Writing major, Kamryn serves as the Associate Creative Justice of Agnes Scott's Honor Court, works as a Resident Assistant in the Office of Resident Life, and manages the institution's social media platforms as a student worker in Agnes Scott's Division for College Advancement.
Kamryn is a digital media specialist focusing on brand marketing, media management, and content creation. She translates her innate love and compassion for victims of bullying by using social media platforms to create a more inclusive and embracing environment inside and outside the digital realm.
Kamryn enhances the lives of those around her to preserve a generation damaged by the digital world. "No one has advocated for the eradication of bullying quite like The Sister Accord, it's simply unheard of! I am so honored to be a part of such a necessary movement. Receiving the Nella D. Jackson scholarship is a step towards bettering the lives of young women everywhere through authentic leadership, kindness, and sisterhood."